Happy New Year from the BECC!!
The coin show is over!! See 2015 coin show report/photos.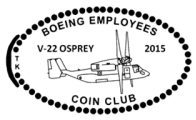 The BECC annual coin show in Kent, Washington was held January 17-18, 2015. Image at right: artwork for elongated cents available at show.
See 2015 coin show flyer in PDF format | See coin show webpage.
See displays and exhibits page for collector exhibit information.
2015 medals feature Bell-Boeing V-22 Osprey – As reported in May 2014, "The Medals Committee has secured approval from Bell and Boeing corporate for the 2015 Boeing Medal. To the left is the approved representation for the 2015 medal design. Thanks to the medals committee for all the hard work. The V-22 first flew in 1989, and began flight testing and design alterations. The complexity and difficulties of being the first tilt rotor intended for military service in the world led to many years of development. The United States Marine Corps began crew training for the Osprey in 2000, and fielded it in 2007." Update (Aug. 2014): The medals committee reviewed with the BECC executive board the cost of producing the medals and decided to leave the prices the same as last year. The Board authorized medals mintages at the Golden State Mint. Medal order forms were to be available soon. Update (Nov. 2014): Tony Kalt announced the status of the medals the club has remaining from this year's (2015-dated medals) order: 97 silver, 89 bronze, 92 pewter and 100 copper. Go order some of those medals! Artwork © 2014 The Boeing Company and BECC. All Rights Reserved.

Jim Payne Memorial Award! – Congratulations to Jim Payne Memorial Service Award recipient Tony Kalt. Tony is club Vice President and Medals Co-Chair, and has directed YN activities at recent annual club coin shows. Photo: Tony Kalt (center) receives the Jim Payne Memorial Award from Jesse Torres (left) and John Enges (right) with Bruce Coggins (behind). The award was presented at the annual October banquet. See the banquet page.
BECC Library inventory added (PDF file), as compiled by BECC Librarian Michael Nau. Items in the library may be borrowed by club members subject to the rules established by the board of directors.