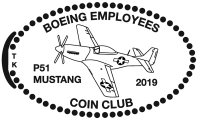 Note: Image in center is elongated cent design for coin show.
Artwork © 2018 The Boeing Company and BECC. All Rights Reserved.
At the May 2018 meeting, Tom presented important statistics on World War II P-51 Mustangs & Aces. Craig made a motion that the 2019 club medals depict a P-51 Mustang, which was accepted.
July update: Tony has ordered 2019 BECC Medals, featuring a "killer" P-51 mustang. 200 silver, 100 bronze, 100 pewter and 25 copper.
September update: The 2019 medals are due to ship from the mint. Once the package contents have been confirmed, we will start shipping the medal orders that do not contain the custom holders (i.e. 3 piece holder/set and mirror base holders).
October update: The 2019 medals are in and looking good. Sales are doing well with more than 70% sold. Last month I inadvertently said we had 115 bronze and pewters minted. That was wrong - we only had 100 minted. So the correct minted quantities are Silver (225), Bronze (100) and Pewter (100), with quantities currently remaining of 31 silver, 27 bronze, and 31 pewter.
I am currently looking for a new source/supplier for the custom medal (and awards) holders. At this rate I don't expect to have the awards for the chair positions that we normally hand out. As soon as we can get the holders I will get those distributed. I will have the antique bronze medal at the banquet so people can view it. Single medals and orders that do not have custom holders will be going out in the mail this week. As soon as I have the custom holders, I'll start mailing the 3 piece holder sets.
November/December update: It's official – we sold out of the silver medals. There are currently 17 bronze and 22 pewter medals left for the 2019 P-51 Mustang. This year the custom holders have been a hassle to get, but we have a supplier now making the holders. My goal is to have them all mailed out in time for Christmas. (Reported by Tony K.)
February (2019) update: It's official – we sold out of the silver medals. There are currently 14 bronze and 20 pewter left for the 2019 P-51 Mustang. (Reported by Tony K.)
May (2019) update: I'd like to say I have some good news in regards to the custom holders but I don't. The last correspondence with the supplier is that they have new material ordered and hope to be starting the holders in the coming week.
After talking with some of the people waiting on the holders, the general thought is to go and put the medals in the standard air-tite style holder and mail the medals out. Then when we finally get the custom holders, those will be mailed out to each person to complete the order.
It could be a week or another month for the custom holders, but you have waited long enough for the medals. As soon as the holders are made for the 2019 medals, the work for the 2020 medals will start, so when (in theory) we get the 2020 medals, I'll already have the holders, so there shouldn't be a delay like this year. (Reported by Tony K.)